Guidebook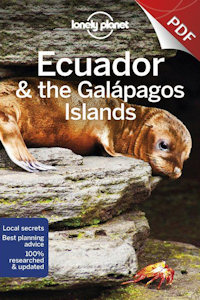 Lonely Planet
Ecuador & the Galápagos Islands
ISBN: 978-1-7865-7062-8
11th edition 2018
Lonely Planet's Ecuador & the Galapagos Islands is your passport to the most relevant, up-to-date advice on what to see and skip, and what hidden discoveries await you. Delve into the past in Quito's vibrant Centro Historico, hike around Cotopaxi for million-dollar views, and spot blue-footed boobies and red-billed tropicbirds in Punta Suarez – all with your trusted travel companion.
Get to the heart of Ecuador & the Galapagos Islands and begin your journey now!
Colour maps and images throughout
Highlights and itineraries help you tailor your trip to your personal needs and interests
Insider tips to save time and money and get around like a local, avoiding crowds and trouble spots
Essential info at your fingertips - hours of operation, phone numbers, websites, transit tips, prices
Honest reviews for all budgets - eating, sleeping, sightseeing, going out, shopping, hidden gems that most guidebooks miss
Cultural insights provide a richer, more rewarding travel experience - covering history, people, music, landscapes, wildlife, cuisine, politics
Covers Quito, Northern Highlands, Central Highlands, Cuenca & the Southern Highlands, The Oriente, North Coast & Lowlands, South Coast, The Galapagos Islands
Fieldguide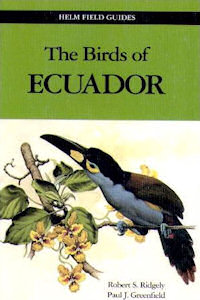 Helm Field Guides
The Birds of Ecuador
ISBN: 978-0-7136-6117-0
2014
The Birds of Ecuador comprehensively treats the nearly 1600 species of birds that can be found in mainland Ecuador. The authors describe Ecuador this way: ''One of the wonders of the natural world. Nowhere else is such incredible avian diversity crammed into such a small country. . . . Birds are, happily, numerous in many parts of Ecuador: even the downtown parks of the big cities such as Quito and Guayaquil host their complement.''

Volume II, the field guide volume of this two-volume set, contains 96 full-color plates and facing pages of descriptive text, a color map of Ecuador, along with two line drawings of bird anatomy, 115 silhouette outlines, and nearly 1600 distribution maps.
All species are illustrated in full color, including migrants and vagrants and visually distinctive subspecies. The text focuses on the field identification aspects of each species, including their behavior, vocalizations, and nest appearance.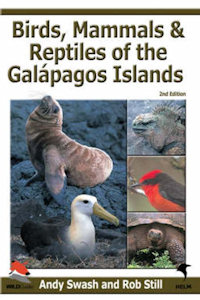 Helm Wild Guides
Birds, Mammals and Reptiles of the Galápagos Islands
ISBN: 978-0-7136-7551-1
2nd Edition 2007
New edition of this superb guide, which describes and illustrates nearly all the birds (154 species), mammals (32 species) and reptiles (28 species) of the Galapagos islands in a single pocket-sized book. The colour plates combine photographs (500) and illustrations (20), with text and maps on facing pages to facilitate identification.
A comprehensive photographic guide to the Galapágos Islands, covering all recorded species in 53 colour plates with ditribution maps of each resident species.
The layout and text are designed to assist visitors to identify any bird, mammal or reptile they may encounter.
Updated with some new photographs and the latest distribution and taxonomic information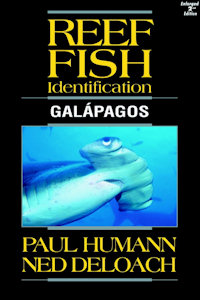 P Humann and N Deloach
Reef Fish Identification: Galapagos
ISBN: 978-1-878348-35-7
2nd Edition 2003
"For anyone even thinking of going to the Galapagos this guide is a must. And, if you have yet to consider the idea, you will when you open its pages."

Updated enlarged 2nd Edition of Reef Fish Identification Galapagos is a comprehensive field guide to the fish life in the rich waters that bath the Galapagos Archipelago. This book is the third in the series of Reef Fish Identification books by the authors.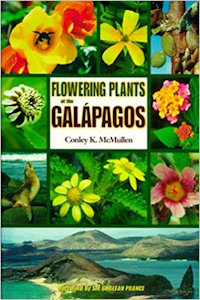 Conley K. McMullen
Flowering Plants of the Galapagos
ISBN: 978-0801486210
1st Edition 1999
The Galápagos are home to a wide-ranging assortment of unusual plants and animals. The islands became famous as the site of Charles Darwin's research leading to his theory of evolution by natural selection, and their magnificent flora and fauna continue to draw visitors from around the world. Based on the author's 16 years of fieldwork and featuring his exceptional photography,
Flowering Plants of the Galápagos
is the first accessible, in-depth yet compact guide to the plant life of the area. may encounter at sea.
An invaluable resource for tourists, natural history enthusiasts, and professionals, the book:
Introduces the botanical history of the islands and their varied ecological zones
Allows easy identification of 436 flowering plants (77 families, 192 genera, and 390 species)
Covers endemic plants found exclusively on the islands; native plants, which grow on the Galápagos and elsewhere; and exotic plants present as a result of human actions
Offers thorough accounts of the plants which give the scientific, common, and family names; range; islands inhabited; habitat; description; and additional notes of interest
Is richly illustrated with 266 color photographs of flowering plants and 117 of plant pollinators, vegetation zones, non-flowering plants, and the islands themselves
Organizes species by form, leaf arrangement, and flower color and includes descriptive plant drawings to aid in identification
Provides a map of the Galápagos and a list of plants likely to be seen at popular tourist sites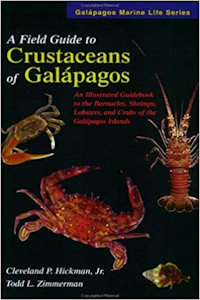 Galápagos Marine Life Series
A Field Guide to Crustaceans of Gálapagos
ISBN: 978-09664932-3-0
2000
This third field guide in the Galapagos Marine Life Series describes and illustrates with color photographs 184 shrimps, lobsters, crabs, and barnacles from the Galapagos Islands, most appearing in living color for the first time in any publication.
The result of eight years of collecting and study by the authors and personnel of the Charles Darwin Research Station, this comprehensive and thoroughly researched treatment continues the highly respected standard established for previous volumes in the series.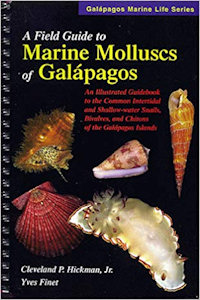 Galápagos Marine Life Series
A Field Guide to Marine Molluscs of Gálapagos
ISBN: 978-0966493221
19993
This field guide describes and illustrates in full color more than 250 species of the most common and characteristic of Galapagos intertidal and shallow-water molluscs.
The accurate illustrations and precise description, and notes on habitat and distribution, enable visitors to Galapagos Islands to quickly and easily identify any of the common molluscs encountered, whether seashells washed ashore or living molluscs seen while diving or snorkling. Includes identification features, glossary, and index to scientific names.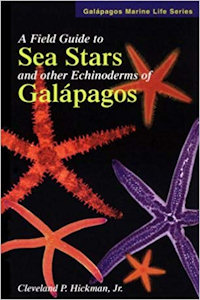 Galápagos Marine Life Series
A Field Guide to Sea Stars & Other Echinoderms of Gálapagos
ISBN: 978-0966493207
1998
This book is a compact field guide to the commonly encountered echinoderms of the Galapagos Islands, an exotic and coloful group that includes sea stars, brittle stars, sea urchins, heart urchins, sand dollars, and sea cucumbers.
It is intended for interested visitors who wishh to explore the fascinating variety of marine life in tide pools and along the shoreline, or those who don mask and flippers or scuba gear to vieuw the vastly different underwater world beyond the beaches.
With full color illustrations and complete, diagnostic descriptions, this book is will help those visitors who are intersted in finding names fore some of the more less seen craetures.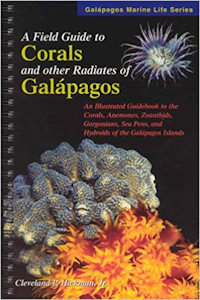 Galápagos Marine Life Series
A Field Guide to Corals and other Radiates of Gálapagos
ISBN: 978-0-9664932-4-5
2008
The fourth field guide of the Galápagos Marine Life Series describes and illustrates with color photos 88 species of corals and their radiate reletives, most of which appear in full color for the first time in any publication.
This guidebook benefitted from recent taxonomic studies that greatly extended our knowledge of Galápagos marine invertebrates.
Several scientist who assisted in specimen identification accompanied the autor on one or more expeditions to the archipelago the ten years of research represented in this field guide.
This volume continues in the highly respected standard established for previous volumes in the series.
Included is an addendum with descriptions of echinoderms and opisthobranch molluscs collected and identified after publication of the original field guides to the echinoderms and marine molluscs.