Guide-book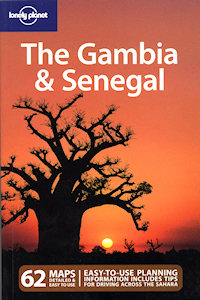 Lonely Planet
The Gambia & Senegal
ISBN: 9781741048292
4th Edition, Sep 2009
Lonely Planet's 4th edition of The Gambia & Senegal will take you from the arid desert lands of the north to the lush tropical forests in the south, and from the capital cities of Dakar and Banjul to the more remote Bassari country.
Go lion spotting in the Parc National de Niokolo-Koba or hike around the beautifully conserved Abuko Nature Reserve.
Lonely Planet guides are written by experts who get to the heart of every destination they visit. This fully updated edition is packed with accurate, practical and honest advice, designed to give you the information you need to make the most of your trip.
62 detailed and easy-to-use maps
Colour photographs highlight the beauty of Gambia and Senegal
Green travel options include community-owned tourist attractions
Unique Green Index highlights the best ecofriendly options
Customised itineraries take you up the coast or down the river
Travelmap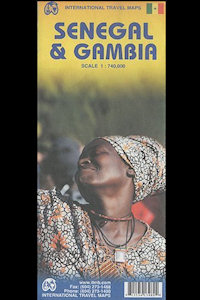 ITMB Publishing, Ltd.
Senegal & The Gambia
ISBN: 9781553413981
6 edition, February 2012
Double sided map covers Senegal (including Gambia).
Includes insets of street maps of Dakar and Banjul and a place name index.
Legend includes roads by classification, airport, ferry, bus station, gas station, telephone, post office, hospital, point of interest archeological site, fort, museum lodging border crossing and more.
Fieldguide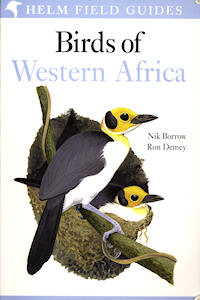 Helm Field Guides
Birds of Western Africa
ISBN: 978-0-7136-6692-2
1st Edition 2004
This new field guide uses all of the plates from Birds of Western Africa, with a concise, authoritative text on facing pages, to create a conveniently-sized, lightweight field reference covering all species found in the region.
The book also has an updated colour distribution map for each species, conveniently placed on interleaved pages within the colour plates. A number of new images have been painted for this new field guide and several of the plates have been replaced.
This is the first comprehensive field guide to cover the birds of this exciting region, and will enable birders to identify any species found in any of the countries covered.
The first comprehensive field guide to the birds of all 23 Western African countries - from Mauritania east to Chad and south to Congo, and including all island groups
Over 820 species, including all breeding species and regular visitors
Covers 1.306 species, including all breeding species, visitors and vagrants
148 colour plates from the acclaimed Birds of Western Africa (Helm), with several reworked and improved
Plates face concise text for rapid reference, allowing identification and ageing of all species
Detailed, fully updated colour maps for every species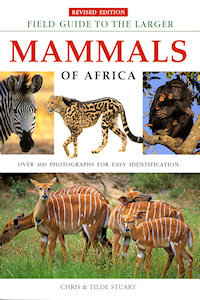 Chris & Tilde Stuart
Larger Mammals of Africa
ISBN: 978-1-77007-292-7
3rd edition 2006
In this updated and revised edition of field Guide to the Larger Mammals of Africa authors Chris and Tilde Stuart concentrate on the more visible and easily distinguished larger mammals species, plus some of the more frequently seen smaller mammals.
In all, over 400 colour photographs, combined with concise, pertinent information highlighting the diagnostic features of each species, provide a comprehensive source of data on each mammal. The latest information has been incorporated and the distribution maps have been revised to reflect the most up-to-date habitat and distribution patterns for each species.
A new feature is the inclusion of the mammals'skulls, grouped together at the back of the book. To aid the reader, colour coding and symbols indicating the habitat and activity period serve as a quick reference to the various mammal groups.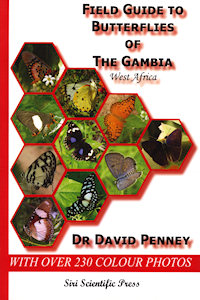 David Penney
Butterflies of The Gambia
ISBN: 978-0-9558636-2-2
2009
The butterflies of West Africa are generally well known, but there are no country-by-country field guides for the interested amateur naturalist.
The butterfly fauna of The Gambia is not particularly diverse in a West African context, but it does contain interesting elements of both Sahelian and Guinean Savannah species, because the country is located at the interface of these two major biomes. As a result of the distinct wet and dry seasons there are different butterfly species assemblages at different times of the year, with some species present year round.
The rainy season and early in the dry season (November and December) are certainly the best times to see the greatest diversity of these magnificent insects. However, despite their highly apparent nature, there is still a great deal we do not know about the Gambian butterfly fauna, including the true diversity of species that occur within the country. Indeed, several species are recorded for the first time in this book.

David Penney is a Visiting Research Fellow in the Faculty of Life Sciences at The University of Manchester. He has spent several years in The Gambia and is also the author of several other field guides in addition to numerous scientific papers.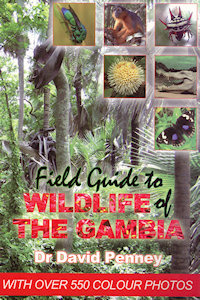 David Penney
Wildlife of The Gambia
ISBN: 978-0-9558636-1-5
2009
The Gambia, located on the coast of tropical West Africa supports a diverse range of habitat types, from forests to mangrove swamps, savannah grasslands and coastal ecosystems.
It has a rich and diverse flora and fauna, which for some groups such as birds and mammals is relatively well known. However, for groups such as arachnids and most insect orders very little information is available.
In this relatively small volume, the author provides close-up macrophotographs and notes on the biology of more than 700 non-marine species, including those most likely to be seen by the vigilant nature lover during a short visit to the country.
Many of the species represent the first records for the country and several will almost certainly be new to science.
The aim is for Field Guide to Wildlife of The Gambia to be used for identification in the field, so text has been kept to a bare minimum.
It is a must for anybody with even a passing interest in wildlife of The Gambia and West Africa in general.
The author is a zoologist and world expert on spiders. He has also written several other titles on Gambian wildlife, including butterflies and arachnids.

Travelstory (dutch)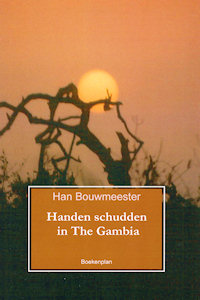 Han Bouwmeerster
Handen schudden in the Gambia
ISBN: 9789071794582
2007
Gambia, een land van tegenstellingen. Dit merkte Han Bouwmeester, de auteur van dit boek, maar al te goed tijdens zijn vakantie in dit Afrikaanse land. Ondanks, of misschien wel dankzij, de tegenstellingen is Gambia één van boeiendste landen in Afrika.
Dit boek is een reisverslag waarin de auteur, tevens een enthousiast vogelaar, de lezer op een boeiende wijze en met een vleugje humor verteld over zijn belevenissen en de karakteristieke kenmerken van het deel van Gambia waar hij zich bevond. Naast het zeer rijke vogelleven maakt hij door zijn opgedane vriendschap met enkele Gambianen kennis met het Gambiaanse gezinsleven.
'Handen schudden in The Gambia' is een informatief en vooral verhalend boek, waar vooral diegene die van plan zijn om ook naar Afrika en specifiek naar Gambia te gaan, een schat aan nuttige informatie zullen aantreffen. Want Gambia is een fantastisch land waarvoor een stukje voorbereiding geen overbodige luxe is. Door de schrijfstijl en de vele foto's zal echter elke reisliefhebber veel plezier beleven aan dit boek.