Borderpassing Costa Rica - Panama

This crossing is on the Caribbean coast.
Sixaola is the last town on the Costa Rican side; Guabito is its Panamanian counterpart. There is a small bridge to cross and you will find the border officials reside in the nearby houses.
It's very chaotic, especially when a truck is passing by, so When no-one is to be found, relax and take some thime for the local shoeshine boy's.

One day after we passed the border
Following several days of torrential rains in the Caribbean regions of Costa Rica and Panama, reports indicate that at least 45.000 people in the two countries have been affected by flooding and landslides.
See the newspaper
Bocas del Toro
Two companies operate water taxis between Almirante and Bocas town. Both companies' taxis leave more ore less hourly from 6:30 am to 6:30 pm.
Be advised that although these are covered boats, their roofs leak; so dress expecting to be hit with sea spray.

Bocas del Toro offers tourists a pleasant and convenient base from which to explore the Parque National Marino Isla Bastimentos and other nearby sites.
On the nearby islands and reefs are wonderful opportunities for swimming, snorkeling and diving, or lounging on white sandy beaches fringed by reeds and coconut palms.
Water taxis (taxis marinos) readily available, in this small town of wooden houses built by the United Fruit Company, will take you to remote beaches and snorkling sites.
The town's relaxed, friendly atmosphere seems to rub off on everyone who visits; it's especially easy to meet locals and travelers here.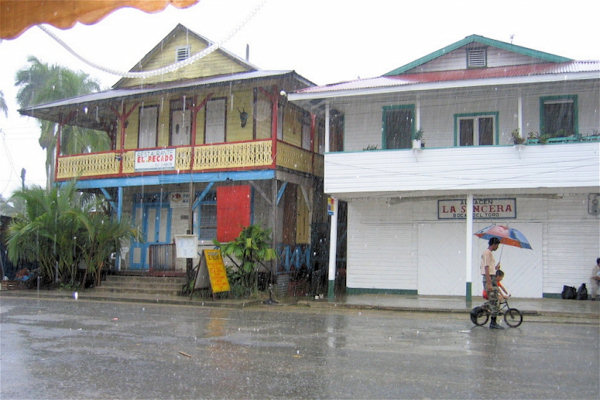 Relaxed as it ie right now. Bocas town is experiencing a development boom; land prices have skyrocketed in recent years, with foreigners buying up land like crazy and building hotels and restaurants.

It rains a lot in Bocas. Most people arrive without an umbrella or rain attire. You'd be wise to bring a small, collapsible umbrella as well as a light waterproof jacket.

Most companies in town offer snorkeling-trips
Be forewarned that the archipelago's waters are notorious for poor visibility. Sometimes you go under and find the visibility is very good; sometimes your visibility is limited to 3m.
More than 40 rivers expire at bayside around the island, and they unload a lot of silt into the sea after heavy rains in the mountains. If it's rained a lot in recent day's don't expect good visibility.
Boquete

Nestled in a craggy mountain valley at 1.060 m, with the sparkling Rio Caldera running through it, Boquete is know throughout Panama for its cool, fresh climate and pristine natural environment.
It's a fine place for walking, bird watching and enjoying a respite from the heat of the lowlands.
Bajaraque witch roughly translates as slow drizzle is the name locals give to the light rainfall that visits this pleasant town almost every afternoon.

Flowers, coffee, vegatables and citrus fruits are grown in and around Boquete.
The naval-orange season, from November to February is a popular time to visit.
Boquete oranges, originally brought from Riverside, CA, are known for their sweetness, and the coffee is widely regarded as the country's finest.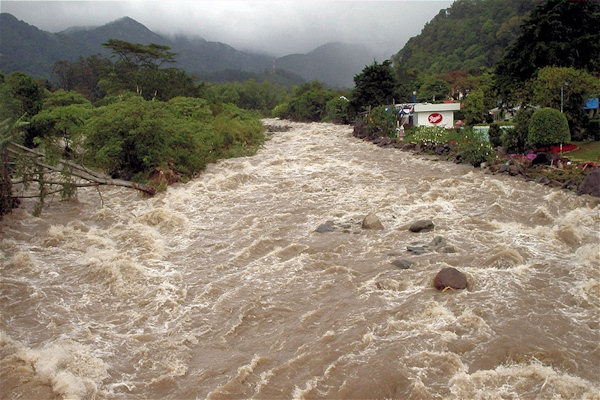 Festival de las Flores y del Café
Flower festival in Boquete is something visitors should definitely include on a trip to western Panama.
From the 11th to the 21st. of January each year the trip would be doubly impressive because that is when this neat little town holds its annual Flower, coffee and handicraft festival.
This floral extravaganza has been held in Boquete since 1984. The fair is held in the Feria grounds on the eastern bank of the Boquete River.
Besides showing off what the Flower Capital of Panama can do in terms of flowers, the Feria boasts 200 stalls with a variety of local artisans displaying everything from local native costumes, coffee, to elaborately carved wooden doors.

Unfortunatly, when i was there in 2005, there was a lot off rain falling, so not so many people arrived.