Bismarck Archipelago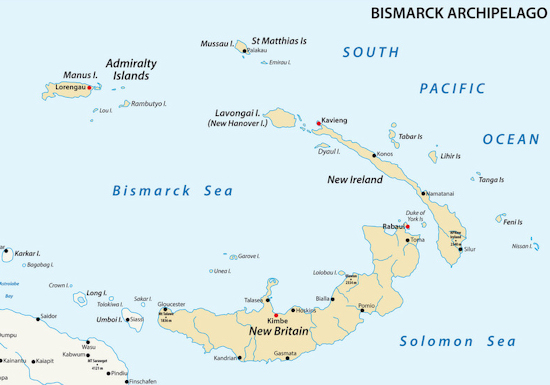 The first inhabitants of the archipelago arrived around 30–40.000 years ago. They may have traveled from New Guinea, by boat across the Bismarck Sea or via a temporary land bridge, created by an uplift in the Earth's crust.
Later arrivals included the Lapita culture; a name given to a prehistoric Pacific Ocean people who left evidence of their livelihood on several Pacific Islands, in the form of ceramic objects that range in date from about 1600 BC to about 500 BC.
Lapita domesticated animals were pigs, dogs, and chickens. Horticulture was based on root crops and tree crops, most importantly taro, yam, coconuts, bananas, and varieties of breadfruit.
The first European to visit these islands was Dutch explorer Willem Schouten in 1616.
The islands remained unsettled by western Europeans until they were annexed as part of the German protectorate of German New Guinea in 1884. The area was named in honour of the Chancellor Otto von Bismarck.
Following the outbreak of World War I, the Australian Naval and Military Expeditionary Force seized the islands in 1914 and Australia later received a League of Nations mandate for the islands.
They remained under Australian administration—interrupted only by Japanese occupation during World War II—until Papua New Guinea became independent in September 1975.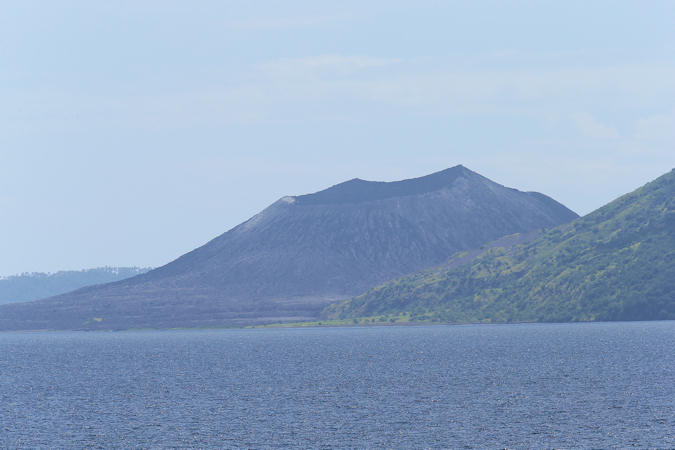 William Dampier became the first known British man to visit New Britain on 27 February 1700; he dubbed the island with the Latin name "Nova Britannia", (Eng: New Britain).
The whole region is a rumbling, billowing string of cones and craters cloaked with virgin tropical rainforest. Some are dormant and harmless while others are scrappy villains that periodically flex their muscles. In September 1994 Mt Tavurvur and Mt Vulcan erupted and destroyed most of Rabaul, one of New Britains biggest and most alluring cities, in a furious rain of ash and rock.
Forests on New Britain have been rapidly destroyed in recent years, largely to clear land for oil palm plantations. Lowland rainforest has been hardest hit, with nearly a quarter of the forest below 100 m disappearing between 1989 and 2000.

Kokopo started to develop just after Rabaul was flattened by the volcanic eruptions of 1994. Kokopo is serviceable, with a range of well-organised accommodation options, banks, government services and lots of businesses, but there are no big-ticket sights.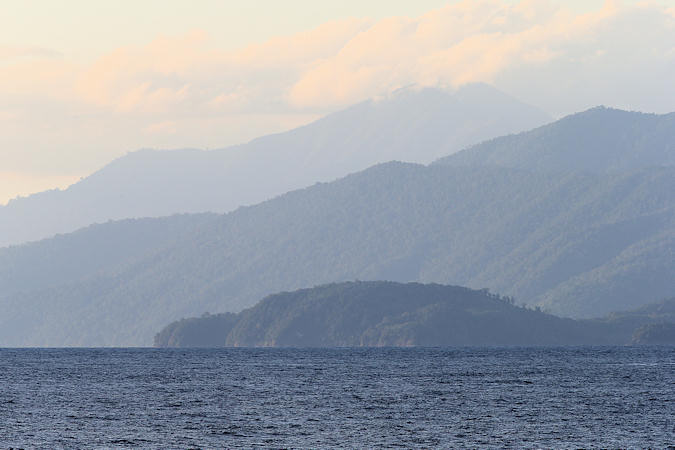 New Ireland was initially believed by Europeans to be part of New Britain, but the British explorer Philip Carteret established in 1767 that the island was physically separate, and gave it the name "Nova Hibernia", Latin for 'New Ireland'.
New Ireland is mountainous and riddled with huge, flooded caves. Midway down the island, the Lelet Plateau rises to 1.481 m and further south, near Taron, the Hans Meyer Range reaches 2.399 m. A fault line provides passage for the Weitin and Kamdaru rivers.

Kavieng itself won't fulfil all your fantasies of a tropical paradise, but it's optimally situated as a springboard to neighbouring islands, including Nusa Lik Island and Lavongai (New Hanover), and for explorations down the coast. There's good snorkelling and kayaking offshore and there's plenty of great diving in the area – not to mention excellent surf breaks.

These are pictures of the nature of the Bismarck Archipelago.
Page 1 |