Ruhengeri
Location, they say, is everything, and on this score Ruhengeri (also called Musazanza), the foutyh-largest town in Rwanda with a population estimayed at 93.000, is privileged indeed. As the closest town to the Volcanoes National Park, it is the most convenient urban base from with to track mountain gorillas, as well as boasting a memorably stirring backdrop in the form of the distinctive volcanic outlines of the three most easterly mountains in the Virunga Chain.
Despite its strategic importance as a tourist hub, Ruhengeri is an unremarkable town, sprawling amorphously from the tight grid of pot-holed roads that surround the central market. But as travel bases go, it's difficult to fault; the mood is friendly and free of hassle, and -at an altitude of 1850m - the temperate climate is most agreeable.
The market is lively and worth a visit, and there are some oleasant strolls around town, as well as the possibility of am excursion further afield to Lake Burera.




Lake Burera
The largest and most beautiful of the lakes in the vicinity of Ruhengeri, and overlooked by what is arguably the best tourist lodge anywhere in Rwanda, Lake Burera has been almost entirely neglected by travellers until recently.
With a privat vehicle, however, the dirt road that loops around Burera's eastern shore makes for a superb day outing, while adventurous backpackers could happily spend several days exploring the lake using a combination of motorcycle-taxis, boats, and foot power.
Burera's eccentric shape is defined by the incredibly steep hills that enclose it. The slopes which fall towards the lake are densely terraced and intensively cultivated; verry little natural vegatation remains among the fields of plantains, potatoes, beans onsd other crops, while the most common tree is the Australien eucalyptus.Virunga Mountains, the closest of which towers 10km away on the western horizon.





Volcanoes National Park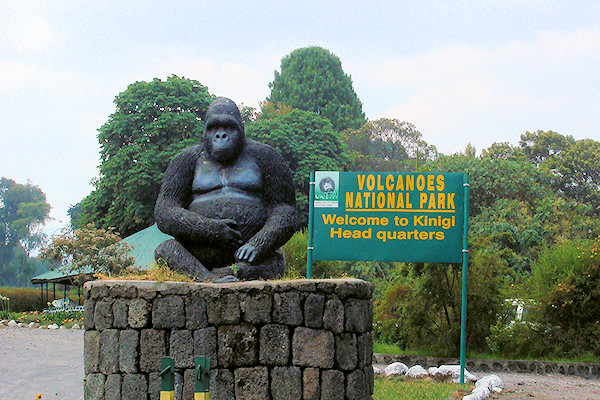 This 160km2 national park protects the Rwandan sector of the Virunga Mountains, a range od six extinct and three active volcanoes which straddles the borders with Uganda ant the Democratic Republic of the Congo. The Volcanoes Natinal Park is part of a contiguous 433km2 trans-frontier conservation unit that also includes the Virungas National Park (DRC) and Mgahinga National Park (Uganda).
Ranging in altitude from 2.400m to 4.507m, the Volcanoes National Park is dominated by the string of volcanoes after which it is named. This chain of steep, tall, free standing mountains, linked by fertile saddles which were formed by solidified lava flows, is one of the most stirring and memorable sights in East Africa.
The Volcanoes National Park is best known to the outside world as the place where, for almost 20 years, the American primatologist Dian Fossey undertook her pioneering studies of mountain gorilla behaviour. It is largely thanks to Fossey's single-mindedness that poaching was curtailed while there were still some gorillas to save. For her dedication, Fossey would pay the ultimate price: her brutal - and still unsolved - murder at the Karisoke Research Centre in december 1985 is generally thought to have been the work of one of the many poachers with whom she crossed swords in her efforts to save her gorillas. Three years after her death, Fossey's life work was exposed to a mass audience with the release of Gorillas in the Mist, a cinematic account of her life.
The park also houses diverent other mammals (Elephant, buffalo, bushpigs, bushbuck, spotted hyena and several varieties of small predators. A bird-checklist for Vulvanoes National Park compiled a totalled 180 species.
Gorilla Tracking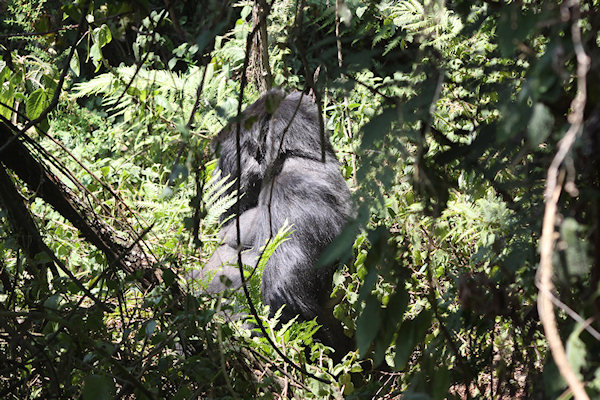 Tracking mountain gorillas in the Virungas is peerless wildlife experience, and one of Africa's indisputable travel highlights. It is difficult to describe the simple exhilaration attached to first setting eyes on a wild mountain gorilla. These enourmous animals; the silverback weight above three times as much as the average man, and their bulk is exaggerated by a shaggily luxuriant coat. And yet despite their fearsome size and appearance, gorillas are remarkably peaceable creatures, certainly by comparison with most other primates.
Fascinating is the extent to which the gorillas try to interact with their visitors, often approaching them, and occasionally touching one of the guides in apparent recognition and greeting as they walk past.
It is almost as if the gorillas recognise their daily visitors as a troop of fellow apes, but one too passive to pose any threat - often a youngster will put on a chest-beating display as it walks past tourists, safe in the knowledge that they'll accept its dominance; something it would never do to an adult gorilla.
The magical hour with the gorillas is relatively expensive (USA$ 500) and getting there - have no illusions - can be hard work. The hike up to the mountain gorillas' preferred habitat of bamboo forest involves a combination of steep slopes, dense vegetation, slippery underfoot conditions after rain, and high altitude; but it's worth all of that.


Kigale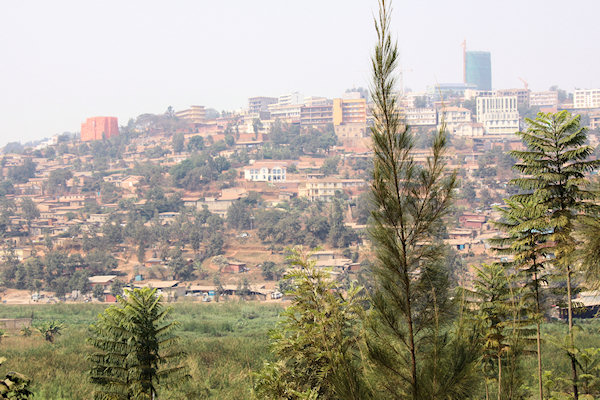 Rwanda'sattractive capital, Kigali, straggles over several hills, with the city centre on one and the government/administrative quater on another.
The centre of Kigali is bustling, coulorful and noisy but (for an African city) surprisingly clean and safe. Its occupants, from smart-suited buisness-persons to scruffy kids hawking newspapers or pirated cassettes, go purposefully about their activities, only lessening tempo briefly in the middle of the day. Occasional traffic lights, roundabouts, a strictly enforced one-way road system and a cacophony of car horns manage (more or less) to regulate the traffic, although it's heavy and congested at peak times.
There aren't many tourist attractions in Kigali itself and you're unlikely to want to spend many full days there, but there are some good hotels, the services shops, banks etc) are plentiful and the ambience is pleasant, making it an excellent base for exploring the rest of Rwanda; all parts of which are easily accesible by road in less than a day.




Kigale Genocide Memorial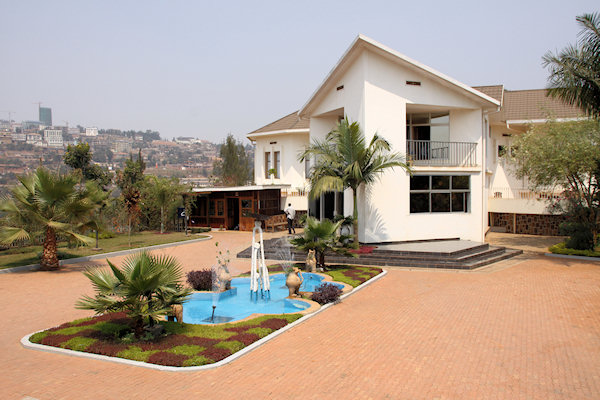 This dignified memorial has been constructed in the Gisozi area of Kigali and opened fully for the tenth anniversary of the genocide in April 2004. Gisozi is de burial site of over 250.000 people killed in a three-month period during Rwanda's 1994 genocide. Today, victims are still being located in and around Kigale as new evidence emerges from trails of those accused of genocide. They are taken to Gisozi as their final resting place.
The memorial centre is a large, white, modern building with terraces in front and a rose garden, in memory of the dead is around the outside of the centre. There is also a Wall of Names which display the names of thousands of victims.
Inside, among other exhibits, is a Children's Memorial dedicated to the many thousands of children who lost their lives; each of its 14 windows details the life and death of a single child.
A guide takes visitors around the memorial, telling the story and showing the skulls and bones of victims, as well as graves. The idea behind displaying bones in this and other memorials is to prevent anyone, ever, from claiming "There was no genocide in Rwanda"