Nuwara Eliya
Often referred to as "Little England" this genteel highland community does have a rose-tinted, vaquely British-country-village feel to it, with its colonial-era bungalows, Tudor-style hotels, well-tended hedgerows and pretty gardens.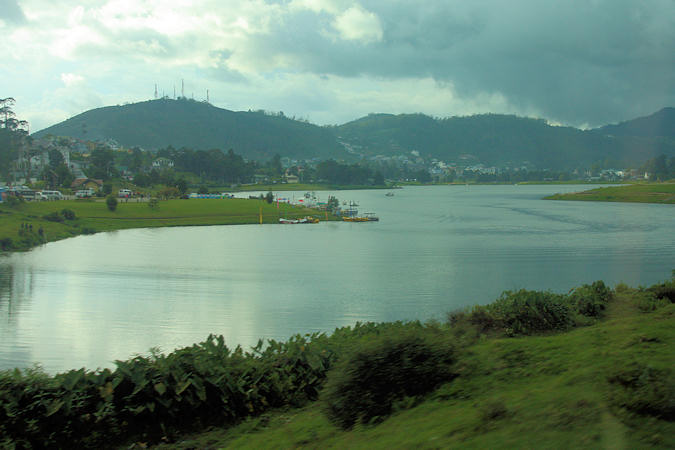 Indeed, Nuwara Eliya was once the favoured cool-climate escape for the hard-working and hard-drinking English and Scottisch pioneers of Sri Lanka's tea industry.

Originally an uninhabited system of forests and meadows, Nuwara Eliya became a singularly British creation, having been discovered by colonial officer John Davy in 1819 and chosen as the site for a sanatorium a decade later.

Later the district became known as a spot where "Englisch" vegetables and fruits, such as lettuce and strawberries, could be succesfully grown for consumption by the colonists.

The first tea leaves harvested in Sri Lanka were planted at Loolecondera Estate, in the mountains between Nuwara Eliya and Kandy. As tea expiriments proved successful, the town quickly found itself becoming the Hill Country's tea capital, a title which endures.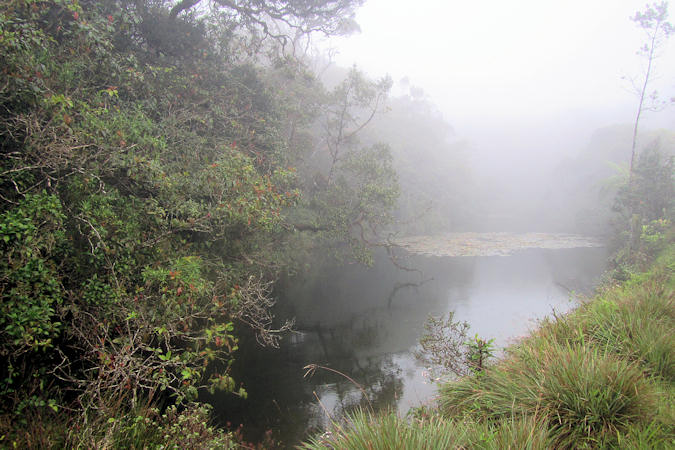 Horton Plains National Park
Horton Plains has excellent hikes and is located in the shadows of Sri Lanka's second- and third-highest mountains, Kirigalpotta (2.395m) and Totapola (2.357m).
The "plains" form an undulating plateau over 2.000m high, covered by wild grasslands and interspersed with patches of thick forest, rocky outcrops, filigree waterfalls and misty lakes.
The surprising diversity of the landscape is matched by the wide variety of wildlife, although many of the larger animals are very elusive.

The area is popular with birdwatchers. Endemic species include Yellow-eared Bulbul, Sri Lanka White-eye, Dull-blue Flycatcher. Birds of prey include the Mountain Hawk-eagle
Kandy

Kandy served as the capital of the last Sinhalese kingdom, which fell to the British in 1815 after defying the Portugese and Dutch for three centuries.
It took the British another 16 tough years ti finally build a road linking Kandy with Colombo. The locals still proudly see themselves as a little different - and perhaps a tad superior - to Sri Lankans from the island's lower reaches.

The city has a compact city center area surrounded by a beautiful tropical rain forest hill country on all sides with exotic animals such as monkeys running around in the wild. But it is also a major shopping destination where all kinds of goods imaginable can be purchased at surprisingly low prices.
There are also numerous bakeries, offering delicious local treats all over the city center. Overall Kandy is a great place to experience Sri Lankan culture and cuisine surrounded by a beautiful natural environment.


Kandy Lake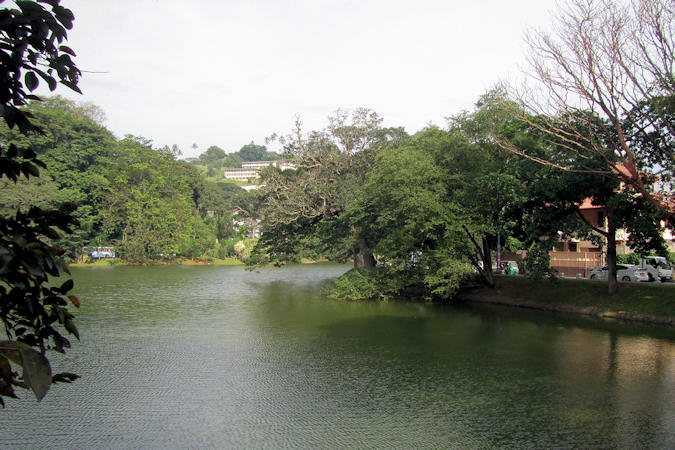 A leisurely stroll around it, with a few stops on the lakeside seats, is a pleasant way to sped a few hours, although diesel-spurting busses careening around the south edge of the lake can mar the peace somewhat.

Peradeniya Botanical Garden
These stunning gardens were once reserved exclusively for Kandyan royalty. Today, even commoners are allowed in to enjoy the most impressive and largest (60 hectares) botanic gardens in Sri Lanka
Highlights include a fine collection of orchids, a stately avenue of royal palms, the extraordinary, aptly named Cannonball Fruit Tree.

Sri Maha Bodhi Viharaya
The temple is known for its giant Buddha statue. The statue of Buddha, built in the late 1980s is depicted in the position of the Dhyana Mudra, the posture of meditation associated with his first Enlightenment, and can be seen from almost everywhere in Kandy.
It stands at 26.83 m high and is one of the tallest Buddha statues in Sri Lanka.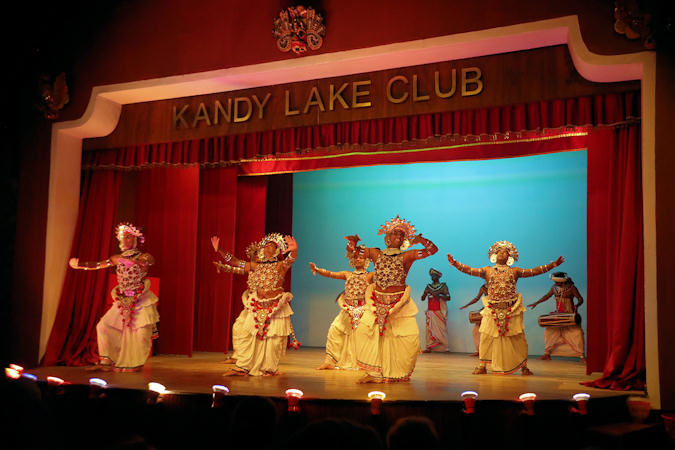 Kandy Lake Club
The Kandy Lake Club Cultural Dance Show is a stimulating Sri Lankan Arts, Dance & Cultural Heritage Show that is a must see for any visitor who visits the historic city of Kandy.
The Kandy Lake Club Dance started in 1982 with the view of having a cultural dance performance bringing together all Sri Lankan dance types to one platform. It is the first Cultural Dance Show of its kind to be established in Sri Lanka.
It has since become a tourist attraction for many people visiting the country and keen on a glimpse of its rich cultural heritage. Hence it has been performing continuously for the last 35 years.

Located 300m up Sanghamitta Mawatha, this place has arguably the best costumes of any of the venues staging traditional Sri Lankan dance shows.
Performances often conclude with a "fire walking" (stepping on burning coals) finale.


Temple of the Sacred Tooth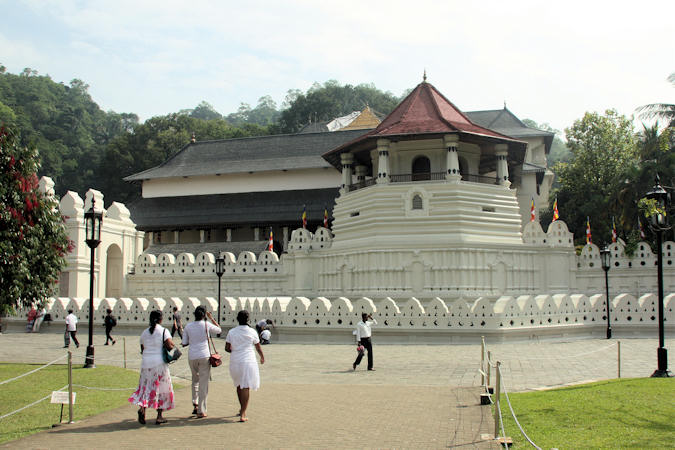 The golden-roofed Temple of the Sacred Tooth houses Sri Lanka's most important Buddhist relic – a tooth of the Buddha.
During puja (offerings or prayers), the heavily guarded room housing the tooth is open to devotees and tourists. However, you don't actually see the tooth. It's kept in a gold casket shaped like a dagoba (stupa), which contains a series of six dagoba caskets of diminishing size.

The temple was originally built under Kandyan kings between 1687 and 1707, but later severely damaged during the 18th-century colonial wars against the Portugese and Dutch. After the wars, the original wooden structures were restored in stone.

Alut Maligawa
Behind the shrine stands the three-storey Alut Maligawa, a newer and larger shrine hall displaying dozens of sitting Buddhas donated by Thai devotees. The design resembles a Thai Buddhist shrine hall in tribute to the fact that Thai monks re-established Sri Lanka's ordination lineage during the reign of King Kirti Sri Rajasinha.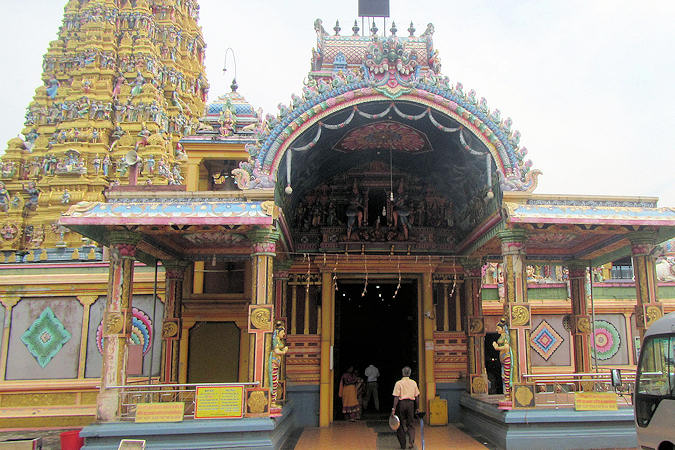 Arulmigu Sri Muthumari Amman
Arulmigu Sri Muthumari Amman Kovil is a temple in Matale (north of Kandy) and dedicated to Mariamman, the goddess of rain and fertility.

The current temple was built in 1874 and is used by both Hindus and Buddhists. The temple was originally a small statue under a tree prayed to by the Hindu people but has been developed by the people in Matale.
The temple was severely damaged during the anti-Tamil riots in July 1983 but has been subsequently restored.

One of the most visually dominant features of this temple is its 32.9 m high Gopuram ('Raja Koburum'), a large decorated tower located above the main northern gateway ('Vadakku Vaayil') to the temple.
The Raja Koburum was completed in 2007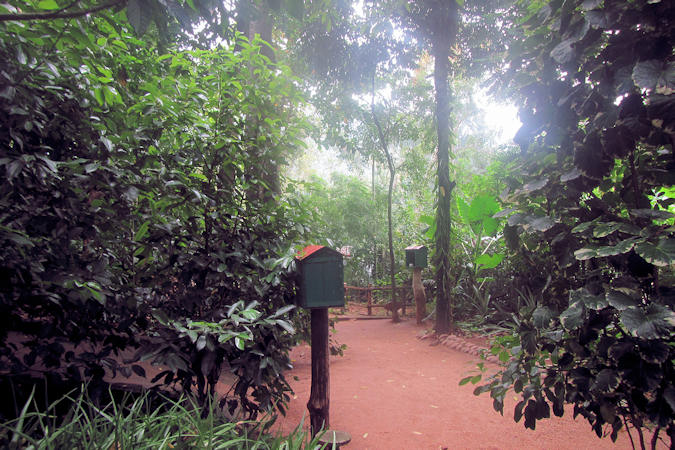 Ranweli Spice Garden
Sri Lanka has always been reknowned for its spices.
Over 15 different spices call Sri Lanka home and many of them are traded in the international spice market. Cinnamon especially is endemic to Sri Lanka, and highest quality 'true cinnamon' can be obtained here.

At New Ranweli Spice and Herbal Garden you will get the chance of seeing how spices and herbs like Turmeric, Pepper Corns, Cloves, Cardamom, Nutmeg, Vanilla, Cinnamon, Cocoa, Aloe Vera, etc. are grown in their natural environment.

The Spice garden is situated just north of Matale and there is a shop where you can buy diverent things.
Sigiriya

Sigiriya refers to a site of historical and archaeological significance that is dominated by a massive column of rock nearly 200 metres high.

According to the ancient Sri Lankan chronicle the Culavamsa, this site was selected by King Kasyapa (477 – 495 CE) for his new capital. He built his palace on the top of this rock and decorated its sides with colourful frescoes.
On a small plateau about halfway up the side of this rock he built a gateway in the form of an enormous lion.

The capital and the royal palace was abandoned after the king's death. It was used as a Buddhist monastery until the 14th century.

Surrounding Sigiriya Rock Fortress is a forest reserve which is a very good bird watching destination.
It is a well-protected beautiful area with waterways and thick green forests making it a heaven for birds.
Trincomalee

Trincomalee, one of the finest natural deep-water harbours in the world is located 257 km north-east of Colombo, which is considered as the commercial hub of Sri Lanka.

Nilaveli Beach
Is a stretch of beach which is situated approximately 16 kilometres North of Trincomalee, passing a thriving lagoon on either side and lush coconut palm groves and hordes of cattle, note that the people in the area are predominantly Hindu and consider the cows sacred.
Across the beach about two kilometres into the ocean you will see the famous Pigeon Island, named due to rock pigeons roosting on it by the hundreds and crystal clear water around it to snorkel on to the clear depths of a reef.
Further up North you will see a cluster of reddish rocks which are referred to as the red rock beach.