Guidebook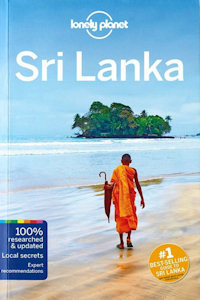 Lonely Planet
Sri Lanka
ISBN: 978-1-7865-7257-8
14th Edition Jan 2018
Lonely Planet Sri Lanka is your passport to the most relevant, up-to-date advice on what to see and skip, and what hidden discoveries await you. Laze on a pristine, undiscovered beach, wander lost cities and ancient ruins, or hit the markets for a rainbow of exotic fruits and rich spices; all with your trusted travel companion. Get to the heart of Sri Lanka and begin your journey now!
Full-colour maps and images throughout
Highlights and itineraries help you tailor your trip to your personal needs and interests
Insider tips to save time and money and get around like a local, avoiding crowds and trouble spots
Essential info at your fingertips - hours of operation, phone numbers, websites, transit tips, prices
Honest reviews for all budgets - eating, sleeping, sightseeing, going out, shopping, hidden gems that most guidebooks miss
Cultural insights give you a richer, more rewarding travel experience - history, culture, politics, religion, beaches, landscapes, wildlife, environmental issues, cuisine, tea, festivals, events.
Over 50 colour maps
Coverage Includes: Colombo, Galle, Kandy, Arugam Bay, Anuradhapura, Polonnaruwa, Jaffna, Uda Walawe National Park, Bundala National Park, hill country, ancient cities, and more
Fieldguide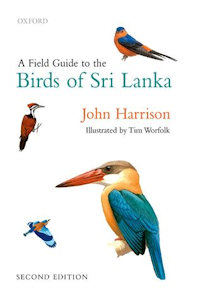 John Harrison
A Field Guide to the Birds of Sri Lanka
ISBN: 978-0-19-958567-0
2011
A Field Guide to the Birds of Sri Lanka is the first fully comprehensive, modern field guide to this ornithologically fascinating country.

All of Sri Lanka's official avian species are described in the text and depicted in a collection of stunning colour plates painted by Tim Worfolk, one of Britain's leading bird artists. The text, accessible to experienced ornithologists and beginners alike, highlights the important identification features such as plumage variations, size, calls and songs, range, distribution, and status for every species.
The plates illustrate the various plumage variations for each bird, and show the birds perched and also in flight, where relevant to their identification.
An introduction to A Field Guide to the Birds of Sri Lanka describes briefly some of the best sites for watching Sri Lanka's abundant avifauna, and provides useful contact addresses for the prospective traveller.

This will be an essential purchase for all birdwatchers travelling to the region; the beautiful plates and clearly-written text will also make it a must-have for anyone who loves birds, and Sri Lankan birds in particular.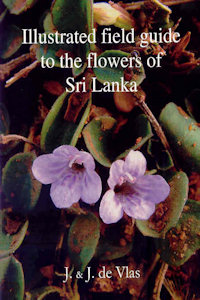 Jacob de Vlas
Illustrated Field Guide to the
Flowers of Sri Lanka
ISBN: 978-955-1917-00-5
2008
Illustrated field guide to the flowers of Sri Lanka depicts more than 1000 different plant species with photographs, and more than 200 related species are shortly described. The main source of information for the descriptions was obtained from the recently completed 15-volume A Revised Handbook to the Flora of Ceylon.

The goal of the authors is to provide a practical guide to the Sri Lankan flowers, with emphasis on herbs and shrubs that can easily be observed along roads and tracks.

Dr. Jacob de Vlas is a Dutch biologist with a passion for field biology and photography. He received his PhD in 1983 from the University of Groningen in the Netherlands. Since then, he is involved in nature management. He produced the photographs and drawings for this book.

Johanna de Vlas-de Jong is a librarian. She organised the excursions in Sri Lanka. she also undertook the administration of the photographed plants.

Their first visit to Sri Lanka was in 1977. Both were struck by the hospitality of the people, the wealth of the Sri Lankan history and, last but not least, the beauty and diversity of the Sri Lankan nature. Successive visits followed.
In 2005 the decision was made to prepare this field guide.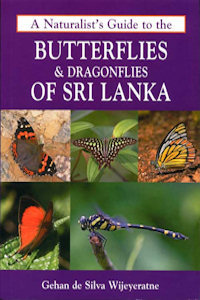 Gehan de Silva Wijeyeratne
Butterflies & Dragonflies of Sri Lanka
ISBN: 978-1-909612-50-1
2015
Gehan de Silva Wijeyeratne is passionate about natural history and has authored and photographed over 15 books and 300 articles.
For each butterfly species the text describes identification features, flight characteristics, distribution and larval food plants.
For each dragonfly species the text describes identification features, habitats and distribution.
Common and scientific names listed.
Overview of species classification, topography, life cycles, feeding habits, behaviour, conservation and butterfly larvae food plants.
The first pocket photographic guide combining dragonflies and butterflies into one portable book
Includes complete checklist of the butterflies and dragonflies of Sri Lanka.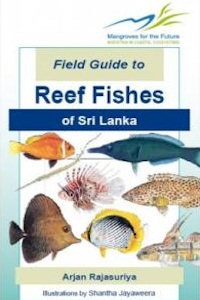 Arjan Rajasuriya
Field Guide to Reef Fishes
of Sri Lanka (2-Volume Set)
ISBN: 978-955-0205-25-7
2013/2014
Using his marine experience of nearly four decades, the author has provided accurate descriptions of selected reef fishes, with precise illustrations by Shantha Jayaweera. These two books fill a gap, as country-specific field guides for Sri Lanka have not been readily available for marine enthusiasts to learn about reef fishes in its waters. This publication will be immensely useful for those interested in learning about reef fishes and may also help officials in the identification of the species of reef fishes protected by law.
Volume 1, published in 2013, describes 158 species of reef fishes in 37 families in Sri Lankan coastal waters, with volume 2, published the next year, adding another 102 species in 14 families.

The 260 species described here are very much less than the number of species that one will see while snorkelling or diving around Sri Lanka. In the process of selecting which species to cover, many had to be left out, but the author has attempted to include most of the colourful species that snorkelers and divers would encounter and observe.