Guide-book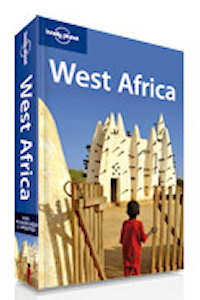 Lonely Planet
West Africa; Togo Chapter
ISBN: 9781741048216
7th edition 2009
This is the Togo chapter from Lonely Planet's West Africa guidebook. This is a digital file you can download and print, or use it straight from a digital device that can view PDFs.
Want to get off the beaten track?
Togo is your destination, and now is a great time to check out this tiny country's hilly landscape, diverse cultures and wildlife.
Seek out northern Togo's remote clay-and-straw fortresses, the tata compounds, amidst stunning scenery
Hike in Kpalimé's lush forested hills and take in the chilled vibe of coffee country
Hit Lomé's bars and restaurants to see the coastal capital in all its decaying glory
Travelmap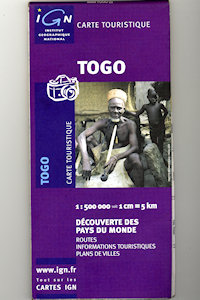 Institut Geographique National
Togo
ISBN: 3282118500215
Folded road and travel map in color.
Includes a city plan of Lomé and Kara.
Field Guide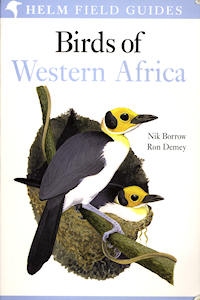 Helm Field Guides
Birds of Western Africa
ISBN: 978-0-7136-6692-2
4 October, 2004
This new field guide uses all of the plates from Birds of Western Africa, with a concise, authoritative text on facing pages, to create a conveniently-sized, lightweight field reference covering all 1285 species found in the region.
The book also has an updated colour distribution map for each species, conveniently placed on interleaved pages within the colour plates. A number of new images have been painted for this new field guide and several of the plates have been replaced.
This is the first comprehensive field guide to cover the birds of this exciting region, and will enable birders to identify any species found in any of the countries covered.
Birds of Western Africa (Helm, 2001) was the first single-volume guide to cover all species of this region, which comprises all countries from Senegal and southern Mauritania east to Chad and the Central African Republic and south to Congo.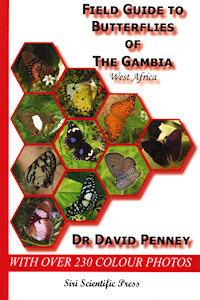 David Penney
Butterflies of The Gambia
ISBN: 978-0-9558636-2-2
2009
The butterflies of West Africa are generally well known, but there are no country-by-country field guides for the interested amateur naturalist.
The butterfly fauna of The Gambia is not particularly diverse in a West African context, but it does contain interesting elements of both Sahelian and Guinean Savannah species, because the country is located at the interface of these two major biomes. As a result of the distinct wet and dry seasons there are different butterfly species assemblages at different times of the year, with some species present year round.
The rainy season and early in the dry season (November and December) are certainly the best times to see the greatest diversity of these magnificent insects. However, despite their highly apparent nature, there is still a great deal we do not know about the Gambian butterfly fauna, including the true diversity of species that occur within the country. Indeed, several species are recorded for the first time in this book.

David Penney is a Visiting Research Fellow in the Faculty of Life Sciences at The University of Manchester. He has spent several years in The Gambia and is also the author of several other field guides in addition to numerous scientific papers.
Travelstory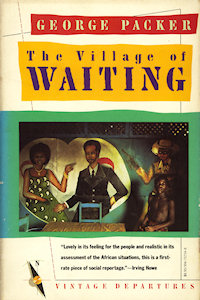 George Packer
The Village of Waiting
ISBN: 0-394-75754-8
August 1988
In 1982-83, George Packer worked for the Peace Corps as an English teacher in the village of Lavie in Togo, West Africa, and here recounts his occasionally comic, more often poignant, and frequently tragic experiences in sharp, descriptive prose.
He does not romanticize Africa or Africans, but writes with an honest sense of realism and the perspective of an outsider who nevertheless cares very deeply for his subject: "The struggle to stay afloat took on endless variations in Togo. And the white foreigner who'd come on an enlightened mission, and once there managed to keep his eyes open, quickly lost his bearings in the face of it."
A great deal of his passion and frustration is directed at an educational system that is impoverished, archaic and based in equal parts on rote and beatings.
For Packer, Togo's educational system is a symbol of its present condition, the enduring product of a colonial legacy that has fostered both a chronic national economic crisis and a deep sense of personal inferiority among many of the Africans whom he met.
The author presents a full view of Togolese customs and society, exploring such topics as work, medical care, marriage and sex, politics, drought and tourists.
He is at his best when he writes about people, including himself, because he treats them not as simple characters or types, but as complex personalities, revealing their histories and psychologies with great sympathy and care.